Barmah Hats w/ FREE Shipping in USA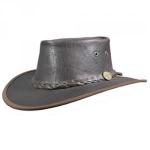 Barmah Hats are credited with the first foldable, squashable leather hat which can be carried around in a small calico bag. If this was their only claim to fame they may not have lasted very long. They realised that they also needed to produce a superior product and they have been very successful with this.
The folks at Barmah Hat are very particular about the leather they use and go to great lengths to make sure that they get a consistent product. Their leathers are always soft and they spring back into shape even after being packed in a bag.
All of Barmah Hat's canvas and leathers are treated to make them waterproof. The canvas hats have a slightly wider brim and, although they can be folded, it is not normal to do so.
All Barmah Hats are finished with a special soft, stretchy sweat band to offer maximum comfort under all conditions.
Barmah 1066 Foldaway Suede w/ Free Shipping in USA

Totally crushable, waterproof and suitable for all outdoor conditions. The suede Foldaway is our biggest selling hat. Size: Small...

US $73.97 - More...
Barmah 1060 Foldaway Bronco w/ Free Shipping in USA

Crushable, waterproof, fullgrain leather.

US $93.97 - More...
Barmah 1033 Outback Croc w/ Free Shipping in USA

Size: Small Medium Large X-Large XX-Large American Size: 6 7/8 - 7 1/16 7 1/8 - 7 5/16 7 3/8 - 7 9/16 7 5/8 - 7 3/4 7 13/16 Nearest Inches: 21.5 - 22.1 22.3...

US $149.97 - More...
Barmah 1023 Squashy Buffalo w/ Free Shipping in USA

The Barmah Squashy Buffalo is a classic hat made from genuine water buffalo hide and represents the style worn by the original high country cattlemen. Size: Small Medium Large...

US $98.97 - More...
Barmah 1019 Kangaroo Sundowner w/ Free Shipping in USA

Genuine Kangaroo Hide, Fully Crushable and Foldable, Waterproof and Lightweight (raw leather) Crown Height: 3 3/4" Brim Width at Front: 2 3/4" (slight variances depending on the size)...

US $99.97 - More...